Players must be currently listed (USTA/NTPR) as this ladder's skill level in order to participate right away. If you do not have a USTA rating in general, or it doesn't reflect your current level of play, contact me and I will set you up with a player on the list to play an "off-list" match and based on the results, you will be placed on the appropriate "level" ladder.
Players who are in the top 5 slots on the ladder are able to try to earn the ability to challenge & be apart of the next level's ladder. Player must win 3 "streak" matches in a row, while remaining in the top 5 slots, in order to qualify for the right to challenge "up" [if the player so chooses]. It is up to the player to track their streak match wins and then to reach out to me and let me know so we can put things in motion!
| | |
| --- | --- |
| Administrator | Jen E. |
| Ladder Id | 116 |
| Members | 0 |
| NTRP Level | 3.5 to 3.5 |
| Privacy | Aproval |
| Created | Apr 12, 2019 |
| Location | Big Sky Farmington |
| www | jenetennisladder |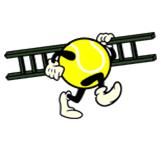 The initial ranking of players on the ladder is based on their current points
A player may challenge any other player above his or her position who is within a range of 5.
Players may issue or accept more than one challenge at a time.
Members are not required to accept more than one challenge per week. However, members must accept valid challenges from other members, or accept a loss by default. Players are not required to accept a challenge from another player they have defeated withinthe past two weeks.
Member will be deducted 100 points if he or she doesn't play any match in 10 days unless there's a valid reason.
The standard match format for the ladder is 3 sets and 10 points tie-break if neccessary. However, players can agree on any match format based on the condition. If players can't come to an agreement then they must use the standard format.
Players' points are calculated based on Elo rating system, which is considered the most accurate system for ranking player ability. After each match, the winning player will take points from the opponent. The number of points that the winner takes is calculated based on the winner's current points, opponent's points and the importance of the match. If enough number of matches are played, the best players will be at the top of your ladder. Any match format can be used.
More information about Elo rating system can be found here: Help
There's no match result submitted yet
Let's make some headlines by challenging your friends, shall we?