Australian Open 2014: Stanislas Wawrinka beats Nadal in final
MELBOURNE, Australia -- Stanislas Wawrinka of Switzerland held on to stun a hobbled Rafael Nadal 6-3, 6-2, 3-6, 6-3 and win his first Grand Slam championship in his major debut at the Australian Open on Sunday.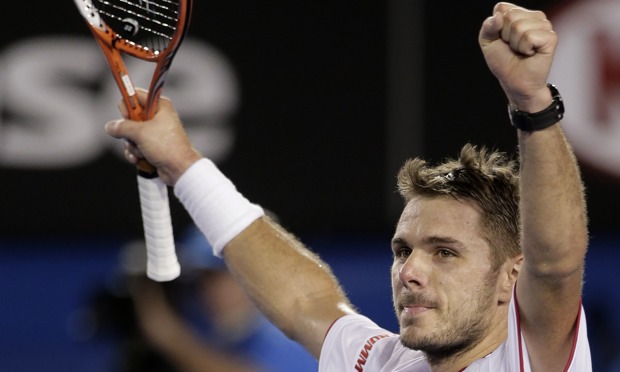 No. 8 Wawrinka, long the second fiddle to compatriot Roger Federer, erased an 0-12 record against No. 1 Nadal -- not even having won a set off the Spaniard -- and knocked off three top-10 players during his Cinderella run, including three-time defending champion Novak Djokovic.
"Last year I had a crazy match (to Djokovic). I lost it. I was crying a lot after the match," Wawrinka said at the trophy ceremony. "Right now I don't know if I'm dreaming or not, but we'll see tomorrow morning."
Wawrinka is projected to move to a career-high No. 3 on Monday, the first time he has ranked ahead of 17-time major winner Federer.
Wawrinka is only the second man since the 2005 Australian Open – a span of 36 majors – to win a Grand Slam outside of Nadal, Federer, Djokovic and Andy Murray. Juan Martin del Potro captured the 2009 U.S. Open, also in his Grand Slam final debut.
Wawrinka, 28, who reached his first Grand Slam semifinal at the U.S. Open in September, set the pace with a blistering first set. He pushed around the 13-time Grand Slam champion from Spain with a potent mix of forehands, backhands and smart forays to the net.
Broken at love to start the second set, Nadal appeared to tweak his back at the end of the third game trailing 2-1. He called the trainer and then left the court for a medical timeout.
Wawrinka argued with umpire Carlos Ramos about the nature of Nadal's injury and when Nadal returned to Rod Laver Arena, the crowd booed.
Clearly hampered, later admitting he felt something from the beginning, Nadal struggled with his movement and his serve speed dipped from about 110mph to 75mph, but he soldiered on.
In the awkward third set, Nadal, still not moving at full capacity but perhaps assisted by painkillers, shortened the points as Wawrinka lost focus.
Rafael hurting

Rafael Nadal of Spain receives medical treatment to his back during the men's singles final against Stanislas Wawrinka of Switzerland at the Australian Open on Sunday.(Photo: Eugene Hoshiko, AP)
"I felt a little bit (with the back) from warmup ... and then I started to feel worse," Nadal said. "I tried hard. The last thing I wanted to do was retirement. I hate to do that, especially in the final."
But Nadal also said the moment belonged to Wawrinka: "Stan, he really ... deserved to win that title. I'm happy for him. He's a great guy, a good friend of mine."
Wawrinka, the 2008 Olympic gold medalist in doubles with Federer, recovered in time to bring Switzerland its second male Grand Slam champion.
Nadal, the 2009 Melbourne winner and 2012 runner-up, fell to 13-6 in major finals. The 27-year-old Mallorca native was bidding to tie Pete Sampras in second place with 14 major crowns and become just the third man in history after Rod Laver and Roy Emerson to win all four majors at least twice.
Wawrinka, the new Swiss No. 1, is the first man to defeat the top two seeds at a Grand Slam since Sergi Bruguera at the 1993 French Open beat No. 1 Sampras and No. 2 Jim Courier.
(source: http://www.usatoday.com/story/sports/tennis/2014/01/26/nadal-losing-wawrinka-australian-open-final/4911881/)